2021 was a landmark year for Closd, and for the legal world altogether. Legal tech cemented its place in the industry, increasing the use of automation and standardization, and ingraining tech into a variety of practices in firms and legal departments, large and small. Great strides have been made, but we still have much work ahead to make tasks altogether less laborious, wasteful, and time-consuming in the legal industry.
Before we jump into 2022, let's take a moment to look back at the most memorable moments of the year and see what we achieved together.
Joining forces with LexisNexis
In December 2021, Closd joined the LexisNexis group. Everyone in the legal industry knows LexisNexis: a historic provider of legal, regulatory, and business information and analytics, and a giant in the sector. This was a huge milestone for Closd, and the opportunity to combine our creativity and capacity for innovation with LexisNexis' cutting-edge technology and global reach.
As the newest part of the group's ecosystem of workflow automation solutions, Closd will continue to grow internationally and develop more valuable features, while upholding the same vision: to make legal transactions simpler, safer, and faster, while optimizing relationships between stakeholders.
The partnership will be key in boosting our growth and internationalization through 2022 and beyond. As our CEO Grégoire Debit best put it: "LexisNexis has been a business that is more focused on content, but now they are moving to more of a SaaS approach and legal tech is a booming sector. LexisNexis is a giant and we can now grow into a lot of markets, and we can scale because deal processes are similar all over the world."
This new adventure is just beginning – stay tuned on how we'll be forging the way ahead in legal transaction management together, and how our alliance will benefit our users.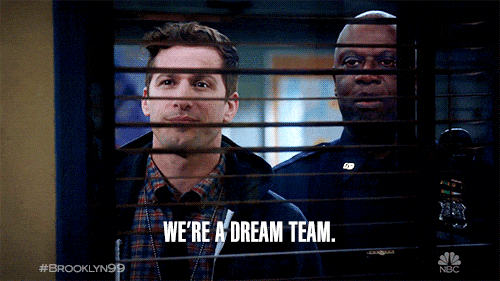 2021 Quick Stats
In 2021, Closd's activity grew exponentially, as it did in 2020. We more than doubled our client base, today serving over 200 clients made up of law firms, in-house legal departments, and dealmakers across Europe. With over 45,000 active users and 11,000 transactions carried out successfully on the platform to date, activity on Closd has nearly tripled this year. A mere 3 years after we were founded, we're proud to be the reference transaction management solution in Europe today. Above all, this has demonstrated the need for transaction management services in the legal industry – looking to 2022, we're even more confident in the value of our platform and importance of our mission.
See the highlights of 2021 below!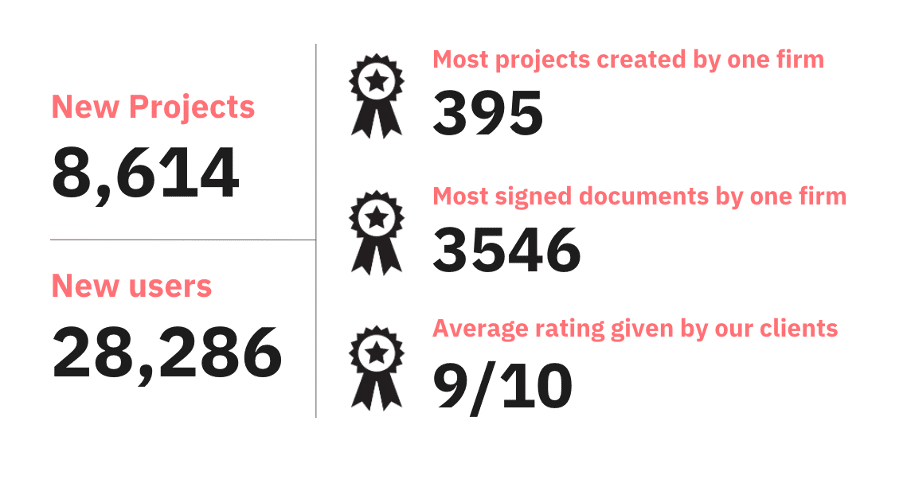 Evolving our platform
In 2021, Closd became an even more comprehensive solution, adding a multitude of features that address specific needs for clients in different countries and practices, all while remaining super-simple and easy to navigate.
This included making the platform more personalized for users, allowing greater flexibility in terms of visibility and access rights, and further streamlining communication on the platform between users. We also further developed our signing feature, making it easier and faster than ever for users to sign all kinds of documents safely on the platform. This included creating more automation in the signature preparation process, and adding 'Simple' electronic signatures – in addition to the 'Advanced' electronic signatures already available – as a faster and easier alternative for signing, as well as handwritten "wet-ink" signatures for users in common law jurisdictions, where signing in counterparts is common practice.
Just the beginning: Closd V2 is coming
Most importantly of all, we have been working on an exciting project all year. It's time to unveil the news: Closd is releasing a V2 of its platform January 24th!
This will include a brand-new interface and expanded transaction management capabilities – the next step in our mission to transform the way deals are run. Every module will have a fresh look that makes each step of the transaction simpler, faster, and more intuitive. The new design and features will make users' and, importantly, their clients' experience on the platform smoother and the deal process more effective – key in strengthening relationships with clients.
Here's a sneak peek of the V2: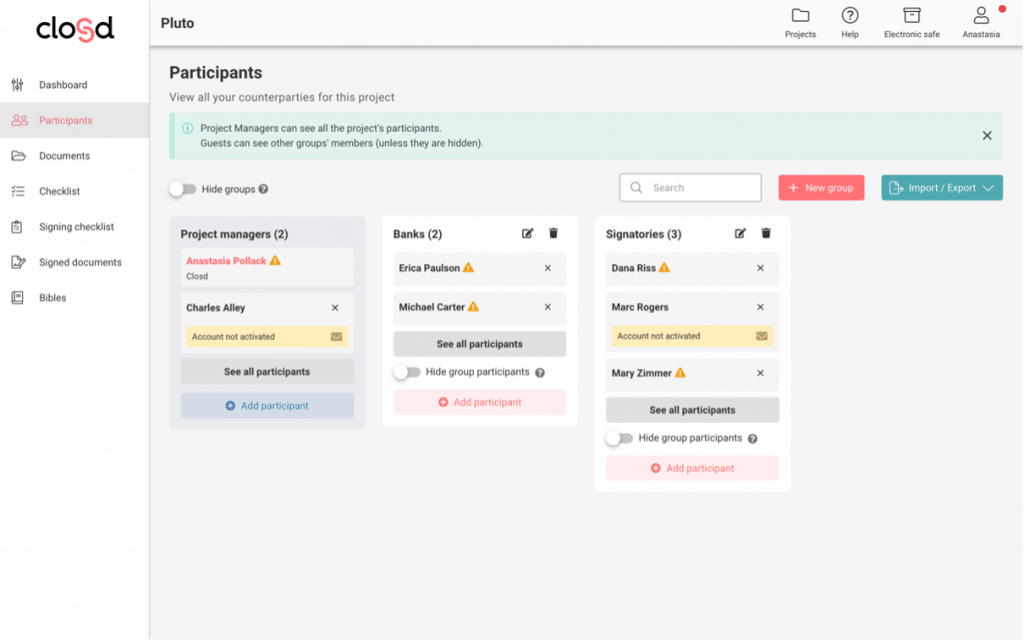 We will be sharing more information soon, including details on new features. Stay tuned!
Our team is growing
We're also expanding our team in 2022! We're looking for some talented individuals to help us extend our client base and reach and continue to scale and develop our platform.
We have open offers for Sales and Marketing teams currently posted here: if you or someone you know is looking to revolutionize a sector that has only just begun its digitalization journey, we'd love to hear from you!
Thank you!
Of course, we can't reflect on our successes over the past year without extending a huge thank you to our users and community for your continued support in what we are achieving together.
We're excited to continue this journey going forward!
To learn more about Closd, sign up for a demo or reach out to us at contact@closd.com
To keep up with our latest updates, sign up to our newsletter or follow us on Linkedin and Twitter