With more than 90,000 users, 30,000 legal transactions already completed, and more than 300 clients in 9 countries, Closd has become the leading legal transaction management platform in Europe.
Designed by legal professionals, the solution aims to simplify legal operations, secure documents and automate low-value-added tasks.
But what about the customers of the solution? What are the benefits they have seen since the implementation of Closd in their company or law firm? We surveyed them to know their opinion on the platform and to know what were according to them its main assets and benefits. Discover their answers!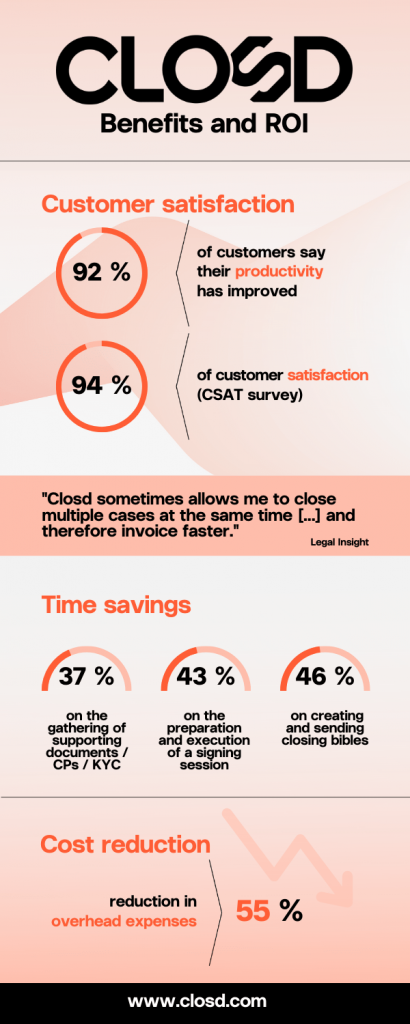 A high customer satisfaction rate
300 companies and firms have chosen Closd to optimize their legal processes (attorneys, transaction advisors, accountants, in-house counsels, funds…). Adapted to all sizes of companies, Closd offers to group together in a single platform all the essential tools for legal professionals to allow them to focus on their expertise: ultra-secure collaborative space, data room, electronic signature solution, archiving with probative value, etc.
Thus, 92% of respondents to our survey believe that Closd has helped improve their productivity, as Céline Tremblais, lawyer and founder of Legal Insight, testifies: "The functionality that allows you to prepare your signatures […] sometimes allows me to manage several closings cases at the same time!"
According to Alexandre Brugière, partner at Coblence Avocats, "We feel that Closd was designed by lawyers, and that the solution takes into account the problems and needs that we are likely to encounter on a daily basis."
Thanks to its features designed for legal practice and user-friendly interface, the average customer satisfaction score (CSAT) of Closd is 94/100. This rating reflects the platform's commitment to user experience and to helping customers get the most out of the tool.
For Yves Larue, partner and co-founder of Askesis, "A strength of Closd is the technical support, which is extremely responsive and helpful […]. This is a real strength of the platform, which I particularly appreciate since we are putting our image and credibility at stake."
Save time on manual and time-consuming tasks
The features allowing to collect supporting documents, to prepare and execute a signing session, and to create and send closing bibles are the most popular among our users. Closd saves a significant amount of time on these manual and time-consuming tasks: 37% of time saved thanks to the Documents feature, 43% of time saved on the Signing Session module, and 46% of time saved thanks to the automatic generation of Bibles.
For Yves Larue, "working with PDF documents instead of paper is a real time saver that allows us to speed up the signing process.". In addition, "the ability to automatically generate closing binders with summaries […] allows us to close deals in one click and send it directly to our clients."
Closd allows you to focus on high value-added tasks and on your legal practice by automating manual and time-consuming tasks with low added value.
Save on your overhead costs
For Céline Tremblais, lawyer and founder of Legal Insight, "the investment is well worth it from the first month of use because of the time saved in the organization of closing processes. I was able to increase the number of operations and significantly improve the speed of execution."
In addition to productivity gains due to the acceleration of operations and the fluidity in the organization of closings, Closd allows its users to reduce their overhead costs by an average of 55% (paper, reprography, couriers, etc.).
Want to know more about Closd? Contact our team for a free demo of the solution!