We are delighted to share the latest updates and improvements of the Closd platform! What's new this month:
Have your notarized documents authenticated abroad thanks to our partnership with Notarity
Export your documents directly into your Arkhineo safe
Export your signed documents to Lexis Poly
Discover the latest updates in terms of user experience on the different modules of the platform.
Discover the partnership between Notarity and Closd
Notarity is an Austrian platform for booking notarial services online. Available in English and German, the platform allows, as required by some European legislations (Austria, Germany, etc.), to make an appointment via video conference in order to have electronic signatures authenticated by a notary or to have notarial deeds drawn up at any time and from anywhere.
Notarity partners with notaries who offer online authentication and notarization / notarial deeds through the platform.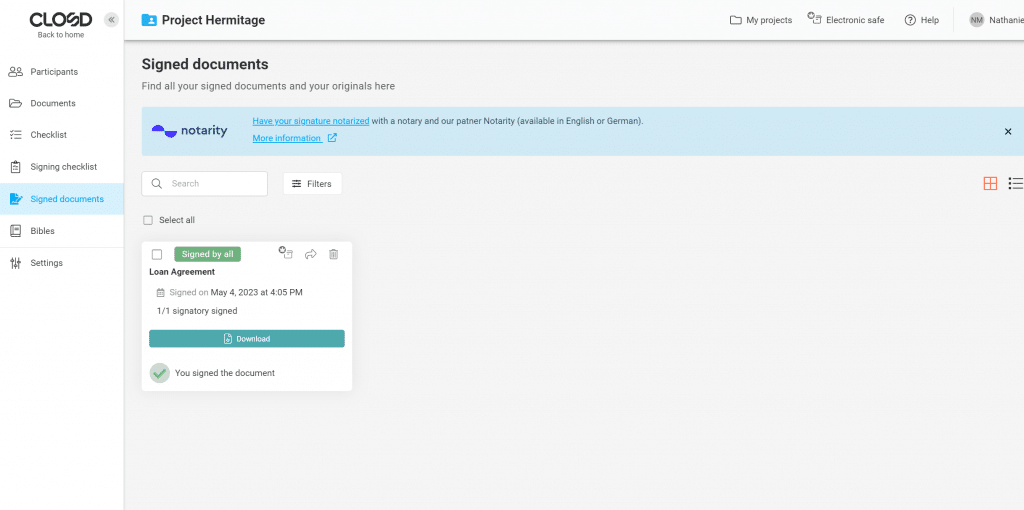 Thanks to the partnership between Closd and Notarity, users who have activated the option will be able to book an appointment directly to have signatures made on Closd autenticated. Contact our team to activate the option, or find out more about Notarity here.
Export your documents directly to your electronic safe or to Lexis Poly
Since last March, Closd is integrated to the Lexis Poly suite, which allows you to benefit from a 360° experience of your work tools by accessing your Poly files directly from Closd.
Take the integration between your tools to the next level: it is now possible to export documents contained in the Signed Documents menu directly to Lexis Poly.

It is also possible to export one or more documents directly to your Arkhineo safe (if activated). This new feature is accessible from all the spaces allowing to host documents in the platform (Documents, Checklists, Signed documents).
This allows you to guarantee the probative value of your documents and to secure them once the file is completed.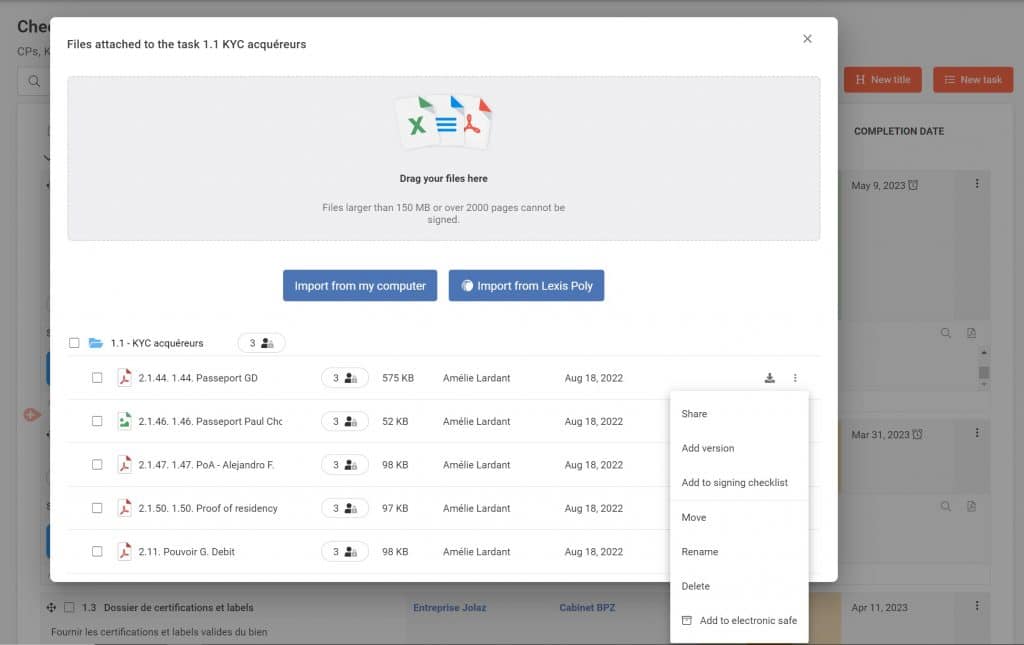 Benefit from an improved experience
Documents
Various improvements to simplify your user experience are also available: it is possible to perform drag and drop in the Documents area to move files.
Closing checklists
Upon request of our customers, and in order to simplify the communication between the different parties, the maximum comment length in the checklist tasks has been increased. It is now possible to post comments of up to 2000 characters.
In addition, the files attached to the checklist are now numbered according to the task numbering. This will appear in the index of your bible.
If a task is moved to a different place in the checklist and automatic numbering is activated (its numbering is therefore modified), this change will be directly visible in the Documents area.
Settings
Go even further in setting the rights of your users (Settings > Access rights): it is now possible to choose which users or groups of users are entitled to generate closing binders and to comment on checklist tasks.

Want to learn more? Contact our team for a free demo of the solution, or subscribe to our newsletter to stay up to date!