The checklist (also called closing memo, CP checklist, step plan, or simply retro planning depending on the situation) is a central part of any legal transaction. It is also a challenging process considering the complexity and multiplicity of the steps, deadlines and tasks to be carried out. Whether you're a legal team working to complete a loan facility agreement or a cross-border M&A transaction, an entrepreneur raising Series A financing for your startup, or you're holding an annual shareholders' meeting at your company, the checklist is an integral part of running a deal.
Take the CP checklist, which allows legal teams to collect every document needed for KYC – and can involve thousands of documents. Or a board meeting agenda, where convening letters, draft resolutions, draft minutes, and other documentation needs to be collected efficiently.
Or say you're preparing a closing checklist for a finance transaction. In a large transaction, innumerable documents need to be shared or sent out to be signed by various parties, while closely monitoring outstanding signatures and tracking each document's progress.
Why getting the checklist right is essential
Completing these using email and Microsoft Word – the standard tools still used by most legal teams – is no easy task. It suffices to read this article in Legal Cheek, which details a few weeks in the life of a junior banking & finance lawyer, to see why the standard process is lacking, to put it lightly. The time leading up to deal completion is described as "4 weeks in hell" – we'll let you read on to see why (hint: chasing down parties and tracking files by email and copying, pasting and reformatting CPs line by line into a Word document isn't super-efficient, or particularly pleasant for anyone involved).
The checklist is also used to inform the client of the progress of all the projects in the case with the objective of closing on a given date. It is therefore a communication and reassurance tool for the customer, and therefore an important part of the customer experience.
However, in any deal, getting the checklist right is essential. So, what do we mean by a "modern" checklist? Today, legal transaction management platforms like Closd digitalize the checklist and all the steps involved, making each process streamlined and efficient. In this post, we share our 6 tips for creating a standout checklist that will make this key part of any deal efficient, and dare we say, even enjoyable.
6 tips to create efficient interactive checklists
1) Assign parties to tasks and schedule automatic reminders
Managing different parties – manually circulating tasks, tracking who is responsible for what, and individually chasing responsible parties – is no easy feat. And often, at least one deadline, or validation needed for a document, slips through the cracks, meaning the client gets unpleasant news, and the unlucky counsel who is responsible has a very bad day.
How does one get around this? On Closd, lawyers can assign parties to be responsible for specific tasks, or to be validators for tasks, directly on the checklist. Once assigned individually or as a group (for example investors, etc.), they can choose to automatically notify parties of the tasks they need to complete, and to send them automatic reminders of any upcoming deadlines. Each participant then receives a complete list of tasks that they must complete or validate.
It is then possible to set up automatic reminders for the responsible parties before the due date of a task, at any frequency.
On their side, participants filter the interactive checklist to view only the tasks relevant to them, or all the tasks not yet completed. That way, every participant has a clear view of the process, fostering easy collaboration and increasing the chances that the transaction will be closed on time.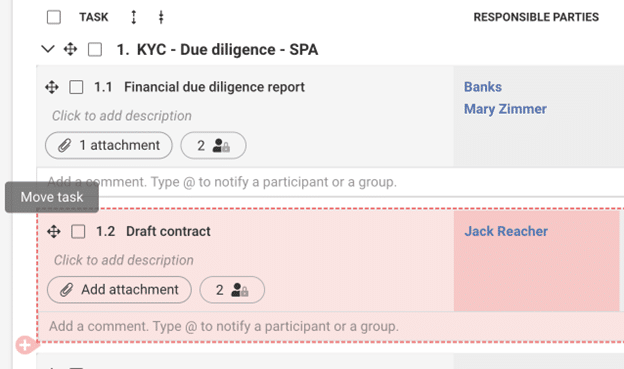 2) Have a real-time overview of your project
An ever-evolving list is, by nature, difficult to share efficiently using static means of communication like email. Constantly re-circulating a changing legal transaction checklist is 1) time-consuming, 2) prone to error, and 3) generally quite annoying for everyone who has to receive three different "Updated Checklist – Read and Review" emails per day.
Instead, on Closd, stakeholders can see how the project is progressing at-a-glance, in real time. Project Managers can update task statuses (pending, started, etc.) and inform automatically the parties involved.
With this, time spent on creating, updating and tracking items on the legal transaction checklist is substantially reduced, with update calls all but eliminated – all while making the deal totally transparent to all relevant parties.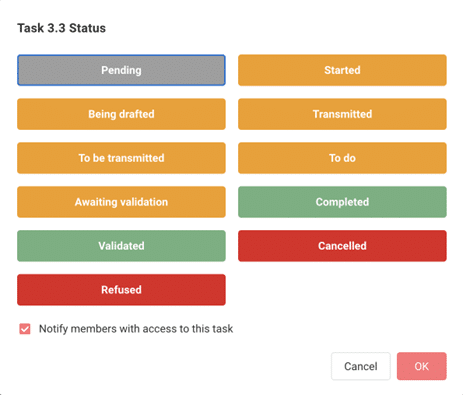 3) Use the chat to conduct a Q&A
The checklist module on Closd allows simple and secured Q&A exchanges between parties regarding a task or a particular step of the process. On the platform, the process is seamless: users can exchange comments, tag other users, and conduct a full Q&A on a built-in, intuitive chat specific to each task of the legal transaction checklist.
In a legal transaction, these questions and answers often have evidential value. Users can export all the comments related to a task in PDF format, to keep them or attach them to a contract for example. That certainly beats exchanging comments by phone or email, keeping them noted down and organized, and manually circulating them… you know the drill.
4) Attach files to tasks and control document versioning
Tasks on CP or closing checklists often involve the collection of documents, and keeping each document associated with its respective task in an organized, clear manner can be a real challenge.
On Closd, users can attach documents to individual tasks to allow parties to keep track of files with precision. Importantly, users can upload different versions of documents (with distinct access rights if they wish) to tasks and can view the entire version history in one place.
On Closd, users can easily attach requested documents to tasks. To maintain the confidentiality required in this type of process, specific access rights can be configured for each task and attached document.
Whether the intent is to share documents with people or to collect them, the digital checklist provides a clear organizational structure that saves counsels having to dig through emails or data rooms to retrieve documents and keep up with their latest versions – instead, everything is centralized and easily accessible in one place.
5) Structure your checklist the way you want
On Closd, lawyers can structure their checklists however they want, creating titles and subtitles and adding tasks that are automatically numbered to have a precise view of the checklist's layout.
Best of all, if the structure changes, a simple drag and drop moves tasks into a different spot on the checklist, and the whole list is automatically renumbered in real time. Try reformatting tables on Word to see why that's a huge timesaver – not to mention manually renumbering each task every time there's a change.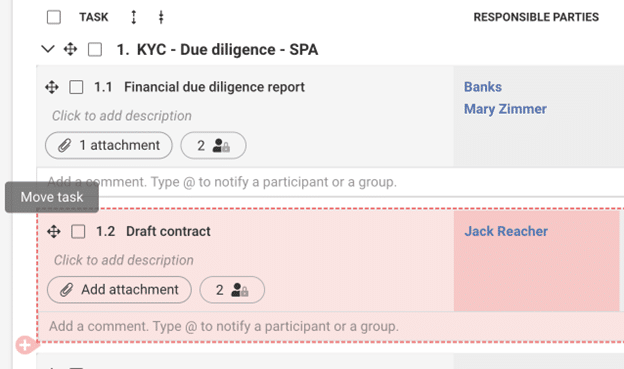 6) Save checklists to create a library
Finally, lawyers can save their checklists in Closd. You never know when a new matter will come up that requires a similar structure, or the same content as an old checklist.
On Closd, you can save your checklists directly on the platform, creating a library of checklists for all different types of matters. You can then reimport them – again, directly from the platform – onto a new project, making sure you never misplace or lose a template, and always have everything handy in one place.
By following the tips outlined in this article, teams can essentially bring their legal transaction checklists into the modern world. With a little help from Closd, they can avoid the pitfalls involved in managing this complex, confidential, high-stakes, integral part of the deal, and allow their clients to marvel at the efficiency, speed, and organization they display.