A topic widely explored at the Legal Geek conference this year was law firms' and legal departments' innovation strategies. Having the right change management strategy has proven to be as important as a legal tech solution itself: without coordinated and well-thought-out implementation, even the best solutions won't produce the desired results.
Below, we gather insightful thoughts from GCs and innovation leaders at major firms and organizations on how they achieved successful transformation.
What an innovation strategy looks like
Setting defined goals and a process to achieve them is the first step in creating an innovation strategy. Bas Boris Visser, Global Head of Innovation and Business Change, and Theodora Fajembola, Head of Continuous Improvement at Clifford Chance, rely on four strategic principles to form their strategy:
A "three horizons approach", a strategy used by organizations like McKinsey, as a structure to assess potential opportunities for growth without neglecting performance in the present. Here is a simple guide on how the three-horizon approach works.
Be prepared to make mistakes and to act on lessons learned, to continuously improve the way your innovation strategy works;
Delivering solutions that are safe and easy to implement on a day-to-day basis through collaboration with stakeholders;
Don't innovate for the sake of innovation. Innovate to try to resolve the key issues of your main stakeholders.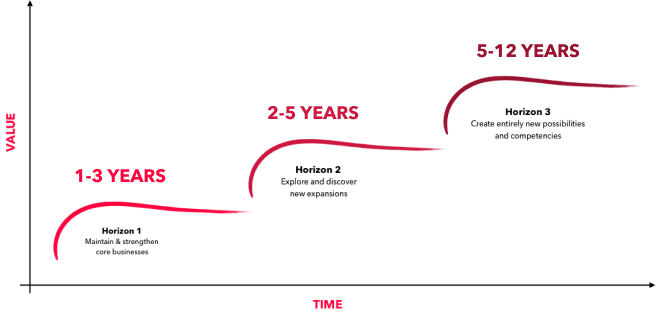 Jason Barnwell, Assistant GC at Microsoft, similarly bases his strategy on three main principles to achieve his goal of allowing lawyers to focus on high-level work to match clients' ways of working and expectations:
Standardizing work by using the same processes to do similar work (re-using the same checklists for similar types of transactions, for example);
Considering machines to be middleware, to allow organizations to start operating efficiently at scale and avoiding duplicating effort;
Making human work easier by simplifying experiences, instead of forcing them to 'context switch' to perform simple common tasks.
These are clear examples of keeping their stakeholders' needs at the forefront to make technological change actionable, in both the short and long term.
How to successfully implement an innovation strategy
After defining what an innovation strategy should look like, how do you implement it successfully? Jerry Levine, Chief Evangelist and GC at ContractPodAi, cited collaboration and education – getting stakeholders to buy in, and then teaching them how to use them – as the top two difficulties when implementing legal tech solutions.
Many solutions don't get the level of usage and adoption that are intended. Levine suggests getting stakeholders involved from the very beginning by asking the following questions:
What do you need to see?
What can we do to make this work for you?
How do we make everything collaborative and work together?
What kind of features do you need?
What do you need to be taught?
If people have a stake in the project, have a voice in the process, and are getting their ideas implemented, they are much more likely to use a solution.
Stephanie Boyce, President of the Law Society, echoed this in saying that a key challenge to implementation is trust. To earn it, she conducts interviews with lawyers to understand their experience and ensure tech innovation is embedded into legal practices in a way that is beneficial to both lawyers and their clients.
The team at Clifford Chance says that lawyers are among the most cynical and skeptical people globally – the most effective way to convince them is by giving them hard evidence and data to demonstrate the benefits of a solution.
Focus and scaling their activities is also key. They found that creating more concentrated hubs across major financial centers and distilling the technology in their portfolio from 20 down to 2-3 key solutions made it easier to increase engagement on all technologies.
How legal departments are transforming right now
Melissa Miller, Senior Manager of Legal Function Consulting at EY Law, explored what legal departments are doing to transform right now, basing her findings on a CEO/legal department EY survey in conjunction with Harvard Law.
The survey reveals there is huge pressure for legal departments to think and act differently, with a push to maximize legal value in the organization. Legal departments have become less siloed and more real business partners that provide strategic enterprise value to an organization.
At the same time, CEOs' top priorities in organizations have changed to include risk management, cost reduction, digitization of processes and investment into technology, and concerns over revenue growth, as shown below.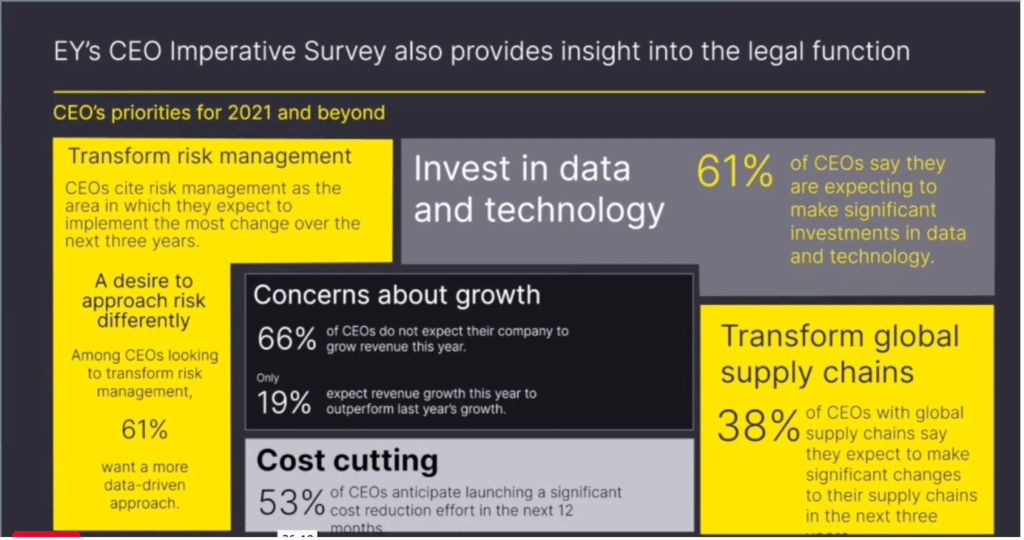 How are legal departments aligning with these new priorities? 92% of the firms surveyed are already changing the ways they function; among these, 96% are making efforts to automate processes. Miller notes that there is no one-size-fits all approach to making change, with strategies ranging from tactical solutions to transformative change.
How, then, do you assess the success of an innovation strategy? Metrics, of course, play a critical role in assessing success. Communicating this success in the right ways is also paramount; keeping stakeholders close, collecting hard data, and communicating through case studies to show how relevant change can be for their practice demonstrates not just to lawyers but also to their clients that they are able to achieve successful change through innovation.
As Ms. Boyce of the Law Society puts it, the future of the legal profession is intrinsically linked with digital technology – there is no escaping from it. The key is figuring out a strategy that fits each organization's unique needs, involving the right stakeholders and sticking to the plan.