This month, we are happy to present you the latest updates of legal transaction management platform Closd. In November of 2022, we released 3 new features that now allow you to share information (archives, document index, checklist export) by email much more easily to your colleagues or clients directly from the platform's interface. We have also made improvements in terms of user experience to make your experience even more fluid.
Finally, we are pleased to announce that the availability time of a bible has been doubled: bibles are now available for download for 96 hours (4 days) on the platform. A bible generated on a Friday evening can therefore be downloaded by your customers on Monday morning.
Discover all these updates in detail!
Share archives by email from the electronic safe 
It is now possible for users with the Electronic Safe option to share archived documents by email with their customers directly from the Closd interface. 
This option allows our users to open and manage a safe directly on Closd for a perfect preservation and a maximum probative value of their documents and contracts for the duration of their choice.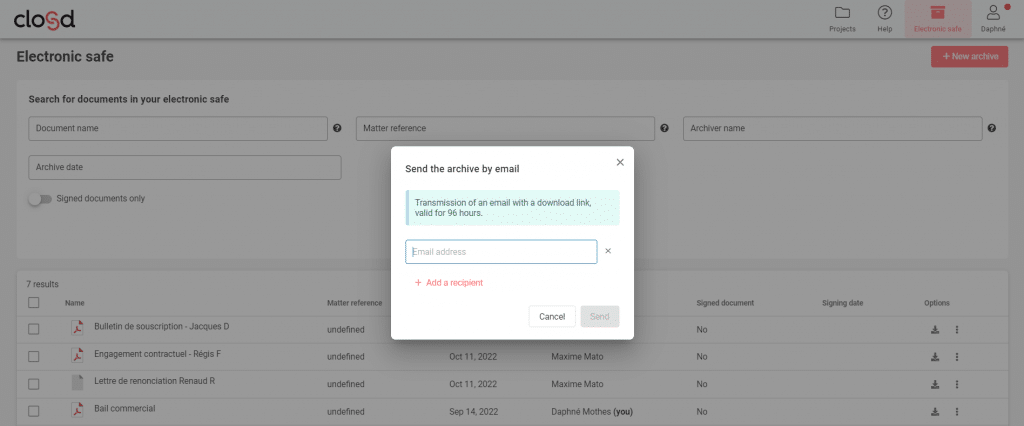 To do this, click on the 3 dots in the Options column, then on Send by email. A window will then allow you to enter the email addresses of the recipients, who can be external to Closd, and therefore do not have to be added as participants to a project to receive the email. The recipients will receive a download link valid for 4 days.
This new feature further strengthens the security of your original or sensitive documents, since everything stays within the platform. If you want to learn more about Closd's electronic safe option, contact our team.
Share a file index by email 
It is now possible to share an index of files and folders directly by email to the participants of a project.
This update allows you to save time and to communicate more easily with all the parties, to verify a list of documents in the context of a due diligence process for example.
To do this, go to Options in the Documents area, click on Share index by email and then choose the format (Excel or PDF) and the Participants, before confirming the sending.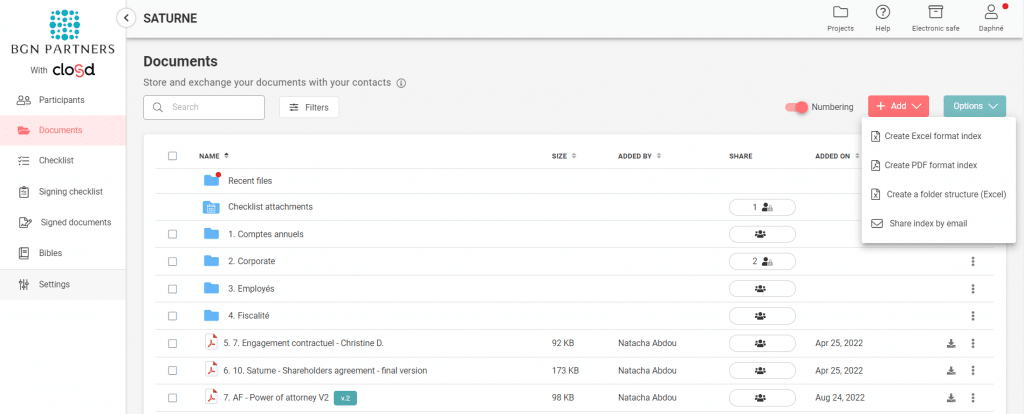 Share a checklist by email 
It is now also possible to share the checklist by email directly from the platform. The goal of this feature is to allow you to improve your communication with the different parties and save time by performing all these steps from Closd.
To do this, go to the Checklist module Options, then click on Share checklist by email. Then choose the format (Word or PDF) and the Project Participants you wish to send it to, before confirming the sending.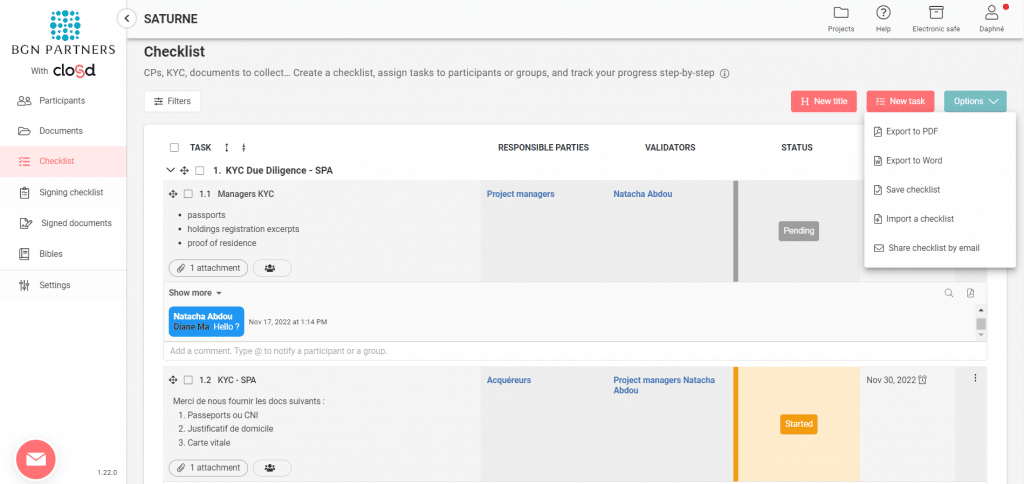 Improved search of the "Recently added files"
In order to easily find a newly added document on the platform, we have added a column in the "Recently added files" folder that tells you in which folder the new document is located.

Save your navigation preferences
Finally, at the request of our clients, you can save your display preferences. 
Whether you prefer to see your signature sessions or checklists unfolded to see all the details or folded to show only the titles, your choice will remain unchanged each time you reload the page.

To learn more, contact our team for a free demo of the solution, or subscribe to our newsletter to stay informed of our updates!